10-18-2014, 10:09 AM
mtuutm
Junior Member


Posts: 5
Joined: Oct 2014
Reputation: 0
Self Evacuation Gear
I was just wondering what kind of self evac gear people out there are using. I talking about the gear you might bring to self evac yourself when riding lifts in the winter or during summer maint season when there is no one to evac you if the lift breaks. We have a set-ups to get an injured person back in a basket or down to the ground, but I always like to carry some type of evac gear so that i'm not getting evaced by ski patrol when the lift stops and i'm on it doing a inspection ride. I use a black diamond climbing harness, 3 webbing anchors, a black diamond ATC, 2 locking caribeeners, and about 180ft. of 9mm climbing rope. It all fits into a pretty small bag that isn't that bad to carrry with you or in a backpack. Anyone else out there carry a self evac set up? Do you carry it all the time? What type of gear is in your self evac set up? Does your area give you training on how to use it?
12-20-2014, 02:03 PM
(This post was last modified: 12-20-2014 02:05 PM by tramway technician.)
RE: Self Evacuation Gear
This is the self evacuation kit that I use:
SELF EVAC / PPE Kit (Personal Protection Equipment)
6MM Accessory Line - 150 ft (1011129)
5MM Accessory Line - 18 ft (293025)
Trango Jaws Belay Device (861011)
Black Diamond Rocklock Twistlock Aluminum KeyLock x3 (210252)
Black Diamond Alpine Bod Harness (650026) - OPTIONAL
HELMET (A10V) - OPTIONAL
GLOVE LINERS (LM 260710) - OPTIONAL
Minus the helmet because we don't just carry it around. Although it is nice to have instead of a hard hat when needed. Plus you can use it for the snowmobiles.
not bad for $164.32 here is the link
http://www.ahsrescue.com/p-1633-self-eva...pment.aspx
12-20-2014, 02:11 PM
(This post was last modified: 12-20-2014 02:52 PM by squints.)
squints
Junior Member


Posts: 37
Joined: Oct 2014
Reputation: 0
RE: Self Evacuation Gear
Nice tramway technician! Thanks for sharing, that is a pretty neat set up.
This is what our ski area provides us: 150ft of 7mm Evac Rope, a tiny Escape 8 descender, one aluminum carabiner and 16 feet of 1 tubular webbing for construction of a seat harness.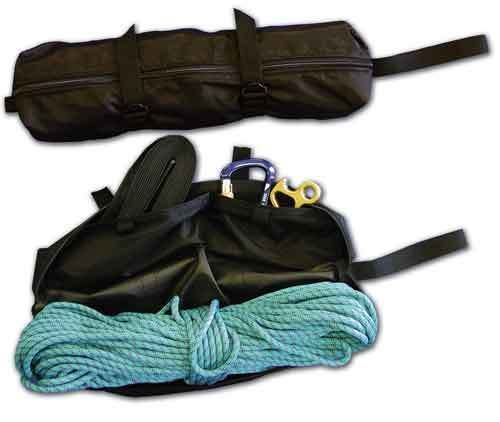 Also check out what I found online, looks pretty checker. I wounder if they make that set up big enough for an actual haul rope.
User(s) browsing this thread: 1 Guest(s)